Last week on our Facebook page we asked you what your favorite summer treats are to help you beat the heat.  We got some great suggestions including frozen grapes and lots of fresh fruit!  Well today we have a recipe round up for you of some great dishes for you to make for your friends and family members.  These recipes are quick, easy and require little or no heat to prepare.  Don't let the heat keep you out of your kitchen.  Enlist the help of your kids and start experimenting with the abundance of summer produce that is currently available!
Let's start with the basics.  Snacking on frozen fruit is a great way to satisfy that ice cream craving while getting a healthy dose of vitamins, minerals and antioxidants for you and your family! Keep a zip-lock back of frozen grapes on hand in your freezer for quick and easy munching.  A tip for freezing grapes is to simply lay washed fresh grapes out on a cookie sheet and place in the freezer.  Freezing the grapes separately will keep them from clumping up once they're all in the bag together.
If you're looking for a frozen treat that is a bit more exciting than grapes alone, what about trying Martha Stewart's recipe for Banana Ice?  The combination of banana, citrus and mint makes this refreshing dish a delicious and healthy ending to a summer meal off the grill!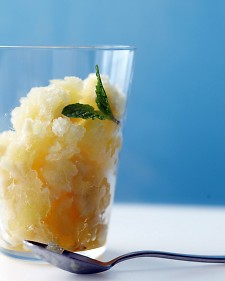 These Fruit Salad Ice Pops are not only a nutritious alternative to most frozen treats but they're also a work of art!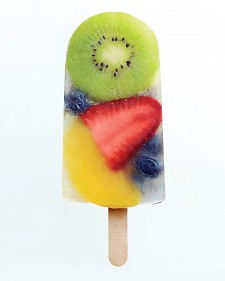 Fruit Salad Ice Pop photo credit 
Most people are used to having fruit with breakfast over cereal or yogurt, on its own as a snack or as part of a yummy dessert.  In fact, all of the recipes in our round-up thus far have used fruit in these traditional ways. Have you ever had fruit on a salad or even a chilled soup? Our next set of recipes all feature fruit in these less common dishes!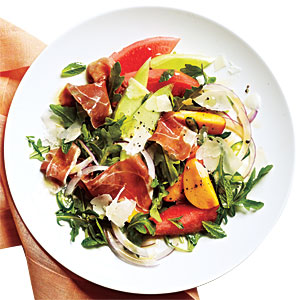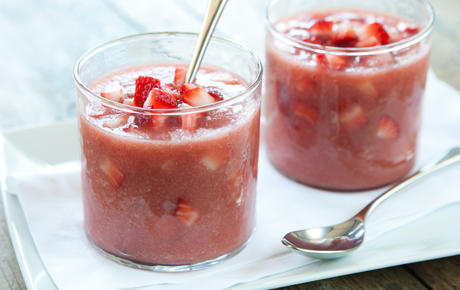 Strawberry Melon Gazpacho image credit 
How about bringing this Five Fruit Salsa to your next summer party?  When paired with homemade Cinnamon Tortilla Chips, this dish will knock your sandals off!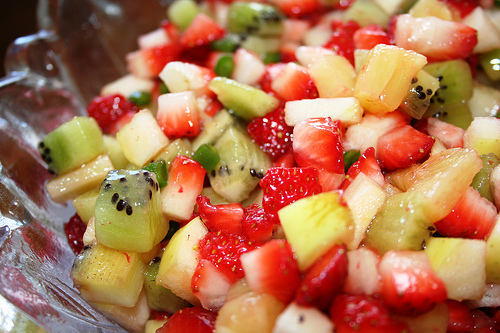 We're encouraging all of you to experiment with some new ways to enjoy fruit this summer!  When you do, come tell us about it in the comments section below.  You can also share your own go-to summer fruit recipes whether they're traditional or not.  Just be sure to include a link to the recipe in the comments below so everyone can try them out!