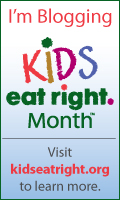 Children really are the future and we can each do a little something to make that future healthy and bright!
August is Kids Eat Right Month: A full 31 days devoted to highlighting how we can contribute to that healthy future. This month Utah dietitians, as the state's nutrition experts, can help focus on smart shopping, fun and healthy eating choices, and living an active lifestyle for kids across the state.
Wondering what you can do to get in on this great cause? Find out how you can get involved! Check out what Kids Eat Right has available for you online: kid-friendly recipes, resources for parents and dietitians, materials for schools and communities, plus fun games for kids!
You can also follow Kids Eat Right on your favorite social media site for other great ideas and celebrations of healthy kids: Facebook, Twitter, Google+, YouTube, and Pinterest.
How will YOU celebrate Kids Eat Right???