Many UAND members were able to attend FNCE, held October 16-18 in Boston. It was a wonderful conference with sessions covering all aspects of dietetics, as well as exhibits for products and foods that dietitians can use in their work.
Attendees from UAND commented on the session that covered Quality and Research, Order Writing, Malnutrition and Obesity treatments as some of the highlights. Some UAND members were also able to attend a dinner for the new Child Nutrition Management DPG Pediatric sub-committee – a great way to network and get the latest info for those populations.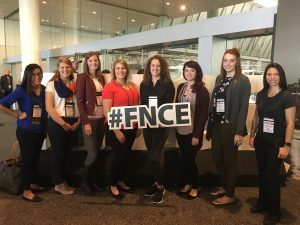 The Expo Center is also a must see. This year it was packed with representatives – and samples! – from food, supplement, and equipment companies. One tour through the booths and a chance to try all the samples was enough to take care of lunch for the day.
We're looking forward to FNCE 2017, October 21-24, 2017 in Chicago!!